I flew out to The American Heart Association (AHA) Nov 10-13 in Phile. As always, there were be Late breaking science sessions that I detailed below. —This year—news broke early too: Tirzepatide (Mounjaro for diabetes) is now ALSO Zepbound for weight management! WOW.

More details on the Cardiology page as they emerge and I do plan an updated Essential Guide to Prescription Drugs, Mounjaro and Zepbound publication that you can preorder now.
I promise some new video footage in the Spring 2024 as I expect to find a wealth of breaking news at ACC in April and will bring a film crew with me as I attend. I've already lined up some thought leaders in Cardiology and Heart Success (Congestive Heart Failure Clinic Specialists) and will have some new colleagues to interview on camera. More to follow as always…
Dateline November 11, Saturday morning from Philadelphia: Filed by Dr. Rybacki: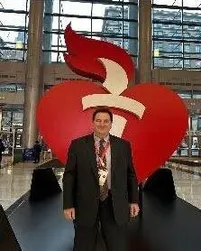 The huge auditorium was filled to capacity for the opening #AHA23 session presided over by Dr. Joseph Wu, the Director of the Stanford Cardiovascular Institute. There were many awards given out (more to follow later) and Dr. Wu also led the Obesity-Novel therapeutics and Implications session. I was lucky to catch up with him after the LBS .01 Session and complemented him on a real-world analogy he made regarding the obesity and CVD burden and the effect on our bodies.
Wu said, it's like putting a 2,000 pound boulder in the back of a pick up truck. This will put huge stress on the transmission, the engine, the tires and almost every component of the truck. Taking one step like changing a tire will NOT make a significant difference—you have to chip away and eventually remove the boulder!

LBS.01 from the American Heart Association Scientific sessions: An important late breaking session was presented entitled Obesity- Novel Therapeutics and Implications for Population Health. There were several presentations within this title. I thought the largest breaking news was already out on November when the FDA APPROVED tirzepatide (still Monjaro for type 2 diabetes) and NOW to be also known as ZEPBOUND injection for ongoing (chronic) weight management in adults with specific characteristics: Patients will need to have a diagnosis of obesity (body mass index-BMI of 30 kg per square meter or more, or overweight (BMI of 27 kg/ square meter or more) with at least one weight-related condition. Those conditions include high blood pressure, type 2 diabetes or high cholesterol. Zepbound should be used in addition to a lowered calorie diet AND increased physical activity. Dr. Rybacki will be updating the current Essential Guide to Prescription Drugs on Mounjaro and it will be available in 3 weeks. CLICK HERE to pre-order the PDF!
One of the STARs of the obesity session turned out to be from the SELECT trial. Dr. Lincoff from the Cleveland Clinic talked about the results and the amazing, practice changing and validating results in 17,604 adults studied for 40 months was that semaglutide (Wegovy) reduced secondary cardiovascular risk by 20% in people who were overweight or obese who had pre-existing heart disease without diabetes.
It's highly unusual to hear applause or cheers during these meetings, but in the SELECT case for Wegovy (semaglutide) there were both. Nicely done Dr. Lincoff and colleagues. The benefits for patients and their families will be fantastic!
What's next? Future research will probably try to show that other medicines in the same family also confer such amazing benefits.
LBS.02. Hot Topics in Management of Coronary Artery Disease/Acute Coronary Syndrome rounded out the morning of breaking science. Dr. Rybacki attended the presentations and thought that 2 of the studies were especially interesting:
ORBITA-2
ORBITA-2 was presented by Christopher Rajkumar and took a close look at PCI compared to placebo to see how it improved the angina symptom score at 12 weeks. The study found that PCI helped symptomatic angina in people with ongoing (chronic) heart coronary) disease and is safe. As always, there was a well-qualified person (discussant) to talk about the results.
Connie Hess, MD noted that 11 million Americans have stable angina and reviewed the results. She thought that angina relief in these symptomatic patients aligns with current science of the biology and pathophysiology of angina.
What's next? Dr, Hess thought that Future research might include studies of the cost-effectiveness of PCI as antianginal monotherapy, review of longer-term outcomes and a better understanding of residual symptoms. She advocated an ORBITA 3 trial!
Saturday Afternoon, November 11, 2023 Main Event 1: Filed by Dr. Rybacki with a focus on POCKET-COST-HF, Cost integration and shared clinician-patient decision making in Heart Failure and sustained blood pressure lowering in KARDIA-1 with a new drug
LBS.03. Heart Failure-VADS, KIDS, and Money:
LBS.04.Using Drugs, Diet and Delivery to Optimize Hypertension Outcomes:
The TEAMMATE trial tried to understand the use of a drug called everolimus to prevent rejection of organ in children after heart transplants. The current standard of care is a combination of two drugs-tacrolimus and mycofenolate mofetil (MMF), but the median survival is only 18 years. This means that many children fail to survive to adulthood because of transplant complications. Everolimus works in a novel way to reduce the risk of rejection, yet the FDA issued a block box warning against use in heart transplant because of higher risk of death because of infection. This study waited until 6 months after transplant to actually start everolimus and use it in combination with low-dose tacrolimus. The study found that at 30 months, the burden of allograft vasculopathy, chronic kidney disease and cellular rejection was NOT different in the experimental group compared to the MMF group. The study group had better kidney function, lower anti-HLA antibody development and less CMV Virus infections. The downside was an increase in abnormal lipids and higher liver enzymes.
What's next? Future research—an extended study of TEAMMATE, following the children into the future makes sense. More to follow at future conferences and as new studies start.

POCKET-COST-HF looked at the effect of telling patients about out-of-pocket costs of heart failure medicines in a shared decision making model. This is a very interesting approach as it makes everyone aware of the potential expense. Patients were much more likely to take their meds and did this 92 percent of the time in the cost-aware group!
What's next? Future research-I could be so simple to put costs into the hospital information system (Epic, Cerner, Meditech, etc.) and print this out for the patient and family before discharge so that they would be aware of any increased expenses. Because many hospitals also have a meds-to-beds program, this would avoid surprises. Future research could also include non-English speaking patients and provide an in-patient to outpatient attending pharmacist model so that the information provided in the hospital could also be reinforced at the Pharmacy visits in the same way!
New medicines have unusual names and a novel high blood pressure drug called zilebesiran was studied in Kardia-1. I know wat you are thinking, so it treats high blood pressure…there are lots of medicines for that. What if I told you that you could get strong control of blood pressure by taking Zilbe only once every 24 weeks ? Dr. George Bekris presented the data on this novel anti-hypertensive that works on liver (hepatic) AGT synthesis. People in the study had mild to moderate high blood pressure. The results showed that SIGNIFICANT lowering of systolic Blood Pressure (the top number of a BP) at month three were maintained through month 6. The investigators concluded that after further studies are done, perhaps every 3 or every 6 month dosing could be used. People often do NOT like to keep on taking pills daily.
What's next? Future research in concert with FDA thoughts of this small interfering (siRNA) RNA therapeutic will decide the best dose and how often the best dose needs to be given!
Diet and sodium and fat often come into play in blood pressure studies.
Sunday Morning-Main event 1
LBS.05 Shocking Decisions in AFib Care
Sunday Afternoon Main Event1
LBS.06. Future of Lipid lowering therapy-Novel mechanisms and approaches
Monday Morning Main Event 1
LBS.07. From Local to Global: Achieving Equity in Prevention
Monday Morning Main event 1
LBS.08 Artificial Intelligence at the Bedside.
Check in daily as this section will be updated often over the next week!
Related Video Channels about Cardiology
High Blood Pressure Help
This Channel will bring you the latest on your heart, heart attacks and even how to best prevent them. Have you heard that having diabetes greatly increases risk for heart problems? We'll even cover that too.
Click here to see all of our videos.
Heart Healing, Genetics And New Medicines

This Channel will bring you the latest on your heart, heart attacks and even how to best prevent them. Have you heard that having diabetes greatly increases risk for heart problems? We'll even cover that too.
Click here to see all of our videos.